PAGE ARIZONA
Gateway to Lake Powell and the Grand Circle
The story of a young vibrant city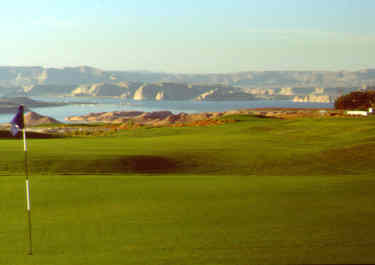 Born in 1957 as a construction camp for the mammoth Glen Canyon Dam Project, Page became a city in 1976 when signed into law by President Gerald Ford. Page was carved out of the adjacent Navajo Indian Reservation through a land trade, but the east shore of Lake Powell north to the San Juan Arm laps reservation lands.
Recreational opportunities abound- boat tours to the world's largest natural stone arch, Rainbow Bridge National Monument, the ultimate get-a-way, houseboating on 186 miles with almost two thousand miles of shoreline opportunities, overland tours to textbook examples of a slot canyon, Antelope, trout fishing below Glen Canyon Dam on the Colorado River, hiking ranging from walks to treks; a smooth water float trip between high sandstone canyon walls; scenic flights giving an overview of this immense mesa and plateau country; scuba diving through the canyons of Lake Powell ;mountain biking the pink and red sandstone slickrock bowls; an eighteen hole championship golf course with incomparable views of the lake and Glen Canyon Dam are but a few of the activities people enjoy.
Accommodations ranging from the Wahweap resort on Lake Powell to economic chains fulfill all needs; a variety of restaurants featuring patio dining to superb cuisine; shopping the gift shops, galleries and antique stores to upscale Polo Ralph Lauren, support services one would normally require to a well staffed, superior hospital facility; excellent schools, housing developments and a brand new airport terminal, just waiting to welcome you to the Page Lake Powell area. Over three and a half million people and eight thousand plus residents can't be all wrong. See you soon !
Gateway to beautiful Lake Powell and Glen Canyon Recreation Area Hub of the Grand Circle Tour of Canyons, Navajo-land, Northern Arizona Southern Utah Headquarters for day trips to spectacular National Monuments, Parks & Colorado River

Design © 2003-2013 by Omni Digicom